VISIT THE CINQUE TERRE ON THIS EPIC 8-DAY ADVENTURE
The hiking is not difficult and only requires good walking shoes to deal with uneven steps and rocks. There is a little elevation gain, especially around the middle village of Corniglia and the viewpoint above Vernazza. The total length of the trail is only 9 miles (15 kilometers) so you can hike it in one day. However, if you want enough time to visit all the villages, you may consider doing it in segments.
Along the path, you will admire sweeping sea vistas, terraced vineyards, forests, wildflowers, and of course the villages themselves. Vernazza and Manarola are probably the prettiest, Corniglia the quietest, Riomaggiore the largest, while Monterosso is the only one with a real beach.
Lac Blanc, France
The walk to Lac Blanc has to be one of the most scenic day hikes in the French Alps. It is also one of the easiest because it's mostly downhill.
Taking a cable car from Chamonix to La Flégère, then a chairlift to the Index, you start the hike at 8514 feet (2595 meters), and walk downhill (with a few small climbs) to Lac Blanc, continuing back down to La Flégère mid-station. The path is quite rocky, so you will need hiking shoes, but the trail is sign-posted and the altitude shouldn't cause problems.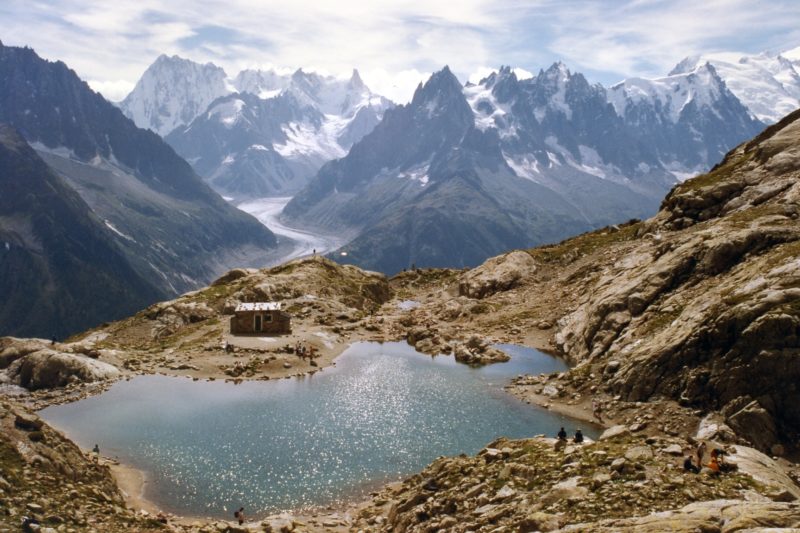 The views up there are amazing, the whole horizon filled with snow-covered peaks, even in summer. Give yourself about two and a half hours for the hike, plus time to enjoy the views. The vegetation is sparse around the lake, but becomes thicker as you approach La Flégère at 6158 feet (1877 meters). I really enjoyed this hike for its ease and stupendous views.
The best time to hike this path is from the beginning of June to the end of October, as the lift does not operate under snowy conditions.